New Zealand School of Export Milestones - 2008
Since our official opening by the Hon. Steve Maharey MP in December 2007, the New Zealand School of Export has achieved a number of significant milestones: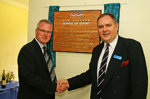 Early in 2008, we made our specialist online Export Library & Information Service (http://www.export.ac.nz/library.html) freely available to all New Zealand exporters as befits the charitable status of the School.
In May, the results for all those studying the Diploma of International Trade in New Zealand, Singapore, Jordan and Canada were announced and the New Zealand School of Export ranked second overall.
In June, our first twenty exporters were awarded their Certificate of International Trade.
During the 34th IATTO Forum held at the World Trade Centre in Stockholm during September, our Director Dr Romuald Rudzki, was elected to the IATTO Board to serve a three year term alongside other international trade training providers from the USA, South Africa and Sweden.
Also in September, the School launched its Export Accelerator Programme in conjunction with Vision Manawatu, a top-level 10 week course specifically aimed at SMEs with high potential to grow their exports, but who do not currently have the skills necessary to achieve this.
In October the School was granted Institutional Status by the global accrediting body IATTO (the International Association of Trade Training Organisations) following an on-site inspection and rigorous application process. This means that the School no longer has to partner with another institution to deliver training, but is now able to offer its own approved learning materials and award internationally accredited New Zealand School of Export qualifications.
In November, we secured additional Adjunct Faculty, individuals who are recognised as being experts in their chosen field and enable the School to continuously improve what we teach based on real-life and the practical aspects of what actually happens in exporting. We are fortunate to have among others, Bob Walters, former CEO of Export New Zealand, Murray Greg who headed New Zealand Cargo for over 40 years and Reinhold Goeschl with over 30 years of international experience in the logistics industry mostly in senior roles with Schenker and Co.
Due to prudent financial management, the School was able to announce a range of scholarships to help exporters achieve their full potential -http://www.export.ac.nz/financialassistance.html
At the end of 2008, we looked forward to celebrating with our first Diploma of International Trade graduates in the New Year and the presentation of a number of inaugural awards such as that for Highest Achievement and a Distinguished Exporter Award.