About the New Zealand School of Export
The New Zealand School of Export is the country's leading provider of professional education for exporters. This is delivered through the distance-education Diploma of International Trade, which is the learning component required for the Global Trade Professional (GTP) designation.
The School is a Not-For-Profit Charitable Trust which is registered with the New Zealand Charities Commission.
We were founded with support from New Zealand Trade & Enterprise during Export Year 2007 and eligible companies can now get 50% of their course fees paid via the NZTE Management Capability Development Voucher Scheme. For those companies who are not eligible, we offer a range of scholarships to help with costs.
In 2008, the School was granted Institutional Status by the International Association of Trade Training Organisations (IATTO), the global accrediting body which oversees international trade training and certification across all continents.
The School is now able to award its own qualifications which are offered via work-based, supported distance learning with no requirement to attend courses off-site.
Course content has been written by experienced New Zealand international trade professionals, aimed at rapidly developing practical skills and knowledge to a point where our graduates can identify and successfully export to profitable markets.
The courses offered are supported by the Export Library & Information Service (ELIS) which is unique in New Zealand. ELIS is the only library and information service focusing on the needs of the international trade community and is now being copied by other countries.
Alumni of the School include staff from New Zealand's largest to smallest (sole-trader) companies including Fonterra, New Zealand Steel, Atradius, Atrax, Red Seal, Cowell's Pavlova's, Encircle, Van Dyck Fine Foods, Forrest Wines, Sacred Hill Wines, and NZ Liquor Resources.
In addition, NZTE also puts its own staff through the Diploma programme so that they are more aware of the practical realtities of what it takes to export from New Zealand.
The School does not take international students (except Kiwis working overseas) or members of the general public as, because of the practical nature of the programme, course participants are required to be working in, or with, a New Zealand exporter so as to be able to undertake the in-company reports which are the course assessments, as the formal exams have now been replaced by a better way of showing how the learning has been applied.
History of the New Zealand School of Export
In 2005 Dr Romuald Rudzki and Dr Robin Smith had a vision to bring world-class export training and qualifications to New Zealand.
Export Training Services Ltd was established as a commercial enterprise to deliver the Diploma of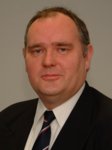 International Trade under licence from overseas, with financial assistance from NZTE as an Export Year '07 initiative.
In May 2007, the results for all those studying the Diploma of International Trade in New Zealand, Singapore, Jordan and Canada were announced and the New Zealand participants in the Diploma ranked second overall.
In 2007, Romuald and Robin's vision of establishing a not-for-profit New Zealand School of Export was realised. The School, which is a Charitable Trust, was officially opened in December 2007 by the Hon Steve Maharey MP for Palmerston North and moved into its own building at Aokautere Business Park.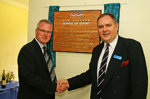 In 2008, the School was granted Institutional Status by the International Association of Trade Training (IATTO), the global accrediting body which oversees international trade training and certification across all continents. This followed an on-site inspection by the IATTO President.
In 2009, the School celebrated with its first group of graduates: Read about our graduates here
The School Director, Dr Romuald Rudzki was elected to the IATTO Board during the 34th IATTO Forum held at the World Trade Centre in Stockholm to serve a three year term alongside other international trade training providers from the USA, South Africa and Sweden.
In 2010, in response to demand from those who want the knowledge and skills to work successfully in International Trade - but who are not interested in gaining a qualification - the Exporter Growth Programme was launched. This was later withdrawn as the Diploma is required to gain Global Trade Professional status and the School took the strategic decision to work with exporters who were serious about becoming world class individuals operating successfully at the highest level.
In 2012, the School celebrated five years of success. Despite the global recession, we have continued to support our exporters through some very tough and lean times and we are grateful to all those who have supported the School since the beginning. In May 2012 we moved out of our physical premises and into a virtual campus in order to better meet the needs of our exporters.
2015 has seen a great start to the year with more exporters hearing about the outstanding work we do to help them and their businesses grow. We currenlty have a 5 star customer satisfaction rating (the highest rating) on the NZTE Accelerate website.
With a track record of success built up over the last several years, our reputation as the leading New Zealand provider of export training and development is becoming more widely known. We now have the runs on the board with many proven successes and are set to move into the next phase of our development utilsing the power of new technologies to create world-beating New Zealand companies.
Export Training Services Ltd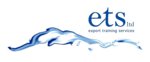 Export Training Services Ltd is a separate, wholly owned and operated New Zealand company, which underwrote the costs of establishing the New Zealand School of Export. The company undertakes export training and consultancy both in New Zealand and internationally, as well as research on export subjects.
The ETS logo was designed by Pip Rolton of Flare Graphics.
Page last updated 10 January 2015.