New Zealand School of Export Alumnus - Dehua Pan - Mathias Meats NZ Ltd.
After graduating from Police College in Shanghai, Dehua moved to New Zealand where he studied for a Bachelor Degree in Commerce and Administration at Victoria University in Wellington.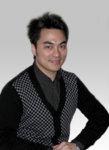 Dehua's international trade career began at ANZCO Foods Ltd where he worked first as a trainee, and then as ANZCO's Marketing Executive for total beef export to China, Hong Kong, Singapore and Taiwan. He enrolled in the Diploma of International Trade in 2007 and in 2008 moved to Mathias Meats NZ Ltd where he is Business Development Manager with responsibility for the Chinese market. In the same year, he was also elected as student representative of the New Zealand School of Export' Advisory Council
"I am so excited about standing in this line of visionary exporters who are taking the lead to gain more skills and gain a competitive edge in the world of international business" says Dehua. "What I learned from this course was much more than practical modules, from which I have already benefited through application. More importantly it is the people I have met in the course from instructors to participants, all truly dedicated, professional and diligent. It's more than a study group it's a pioneering team that drives the country's export professionalism."
"I also need to thank NZTE and Anzco Group for sponsoring my study and my appreciation extends to the School for introducing such a great course. I highly recommend exporters to invest in this rewarding programme - unless staying competitive is not a part of your business goal."
Dehua was awarded the New Zealand School of Export 2008 'Highest Achievement Award' as the only exporter within his cohort to complete the Diploma of International Trade with distinction.
Dehua is now studying for an MBA at Warwick University in the UK whilst continuing to work at Mathias Meats (NZ) Ltd.