New Zealand School of Export Graduate - Belinda Andal, Red Seal Natural Health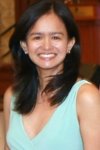 Belinda was the School's very first graduate of the Diploma of International Trade.
Her success marked the end of 17 months of study whilst working full time in Red Seal's export department, as well as driving the development of a range of natural toothpastes for children under the Phyto-shield brand and UMF Active Honey.
Belinda achieved a double success as the proud recipient of the School's inaugural Founders Award for her valuable contribution to the ongoing development of course content and organisational processes.
Red Seal Natural Health's Management said: "Red Seal is currently exporting to a number of countries mainly Australia & Pacific, North Asia and the UK. This specialist course came up at the right time, when we struggled to find skilled people here. Our only option was to train one of our existing staff and we are really pleased that Belinda took the challenge, as she has grown very quickly from being just an administrator to a really good international trade professional."
Belinda, who was presented with her Diploma and Award at the Red Seal Natural Health offices in Avondale, Auckland had this to say:"It has been a steep learning curve, arriving in NZ and finding myself in a new career that called for specialised skills. The programme has helped me navigate my way around international trade quicker, providing me with the ammunition to support my drive to serve Red Seal"s offshore clients better. It has been a challenge – having to crunch numbers and digest subject matters from one time zone to another, but overall, it has been a rewarding journey."